Retreat Yoga Sorrento
16 – 21 Luglio 2023
Sea Edition
(English below…)
Porta il tuo cuore, il tuo corpo, la tua mente e la tua pratica in questo intimo ritiro estivo. Goditi una pratica forte al mattino, una dolce pratica rigenerante al tramonto e meditazioni guidate e rilassanti per i cinque giorni insieme. Aspettatevi un po' di tempo per condividere le sensazioni di ogni pratica, seguite da nuotate, cibo delizioso e nutriente e spazio tranquillo per leggere, camminare, riposare e sognare.

Dicono di noi: "Esperienza yoga full immersion…è magia pura. Infinitamente grazie" Iole
"Avevo bisogno di questo, mi ha permesso di perdermi per poi ritrovarmi" Rosaria
"Nel giro di pochi giorni mi sono sentito rilassato, allegro, emozionato, mi sono sentito grato di aver potuto condividere con animi affini alla mia ricerca spirituale." Giovanni
"Le parole non bastano per descrivere lo stato sperimentato…uno stato di sano benessere e armonia" Annamaria


Alloggi e prezzi
Stanza doppia con bagno privato: 650 euro a persona
Stanza doppia: 600 euro a persona
Stanza doppia uso singola: 800 euro
Le camere sono doppie, se non si è in coppia e non si preferisce la stanza doppia uso singola, si può scegliere la modalità della stanza doppia uso doppia permettendo la condivisione della stanza con un'altra persona a scelta dell'organizzazione.
Cosa include
Pernottamento in camera doppia per 5 notti, mezza pensione (colazione e cena), due pratiche yoga al giorno, un massaggio olistico di 50 min, visita ayurvedica.

Prenotazioni
Per prenotazioni entro il 8 Aprile sconto del 10% sulla tariffa.
Effettuare un bonifico del 50% della quota entro 60 giorni prima del check in. Saldare la quota entro 30 giorni dal check in. (Le coordinate verranno inoltrate al momento della prenotazione)
In caso di disdetta entro 30 giorni dal check in la somma verrà restituita interamente con un buono utilizzabile nei prossimi Retreat Yoga Sorrento 2023/2024.
Contatti: +39 3247960066  ch.desposito@gmail.com
Programma
Giorno 1
ore 18  Arrivo e sistemazione in villa
ore 19 Pratica yoga di benvenuto in terrazza al tramonto
ore 21 Cena vegetariana a km 0
Giorno 2 – 3 – 4 – 5
ore 9   Yoga e meditazione al risveglio in terrazza
ore 10  Colazione
ore 11   Free Time: Bagno a mare, Escursioni sui sentieri della penisola, Kayak, Shopping a Sorrento
ore 19   Yoga al tramonto rilassante
ore 21   Cena vegetariana a km 0
Giorno 6
ore 9  Yoga e saluti
ore 10 Colazione
Durante il free time si possono scegliere varie attività tra quelle consigliate e non.
Possibilità di riservare un incontro privato per un massaggio o una terapia olistica incluse.
Regalati una vacanza esclusiva tra mare, yoga e relax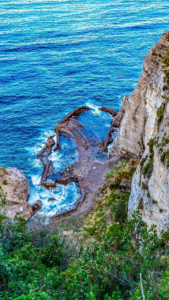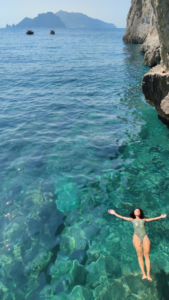 (English)
EXCLUSIVE RETREAT Yoga Sorrento
16 – 21 July 2023
Sea Edition
This summer choose a BEACH HOLIDAY WITH WELLNESS in an exclusive 18th century villa. overlooking the sea: yoga, massages and relaxation on beaches with crystal clear water.
Bring your heart, body, mind and practice to this exclusive summer retreat. Enjoy 5 days of a rejuvenating yoga practice in the morning, a gentle sunset practice with guided meditations and relaxing massages.
Expect a lot of freedom to do what you want most, because this is precisely the beauty of it… You will be free to do what you want during the day: trekking, sea, kayaking, boat rides, visits to the splendid cities of the Amalfi and Sorrento coasts.
All followed by delicious and nutritious food at km 0 and a quiet space to read, walk, rest and dream.
EVENT FOR EVERYONE!
Both those who are expert yogis and want to deepen their practice and those who are curious and want to get to know the world of Yoga can participate.
ABOUT US
"Words are not enough to describe the state experienced … a state of healthy well-being and harmony" Annamaria
"I needed this, it allowed me to get lost and then find myself again" Rosaria
"Within a few days I felt relaxed, cheerful, excited, I felt grateful to have been able to share with like-minded souls." John
ACCOMMODATION AND PRICES
Double room with private bathroom: 650 euros per person
Double room: 600 euros per person
Double room for single use: 800 euros
-"Didn't find a friend * or companion * who shares the room with you?" No problem, you can choose the double room for double use allowing you to share the room with another person chosen by the organization.
WHAT IS INCLUDED
Night stay in a double room for 5 nights, two meals (breakfast and dinner), two yoga practices a day, a 50-minute holistic massage, shuttle service on arrival to and from the bus and train station.
TO BOOK
For bookings before April 8th 10% DISCOUNT on the rate.
Make a transfer of 50% of the fee within 60 days before check-in. Pay the fee within 30 days of check-in. (The coordinates will be forwarded at the time of booking)
In case of cancellation within 30 days of check in, the sum will be refunded in full with a voucher that can be used in the next Yoga Sorrento RETREAT 2023/2024.
CONTACTS
WhatsApp and call +39 3247960066
Email ch.desposito@gmail.com
PLAN
18.00 Arrival and accommodation in the villa
7 pm Welcome yoga practice on the terrace at sunset
9 pm Vegetarian dinner at km 0
9 am Yoga and meditation upon awakening on the terrace
11 am Free Time: Swimming in the sea, Excursions on the paths of the peninsula, Kayak, Shopping in Sorrento
7 am Relaxing sunset yoga
9 pm Vegetarian dinner at km 0
10 am Breakfast and Goodbyes
GIVE YOURSELF AN EXCLUSIVE HOLIDAY BETWEEN THE SEA AND YOGA!
WE ARE WAITING FOR YOU!!!
TEACHERS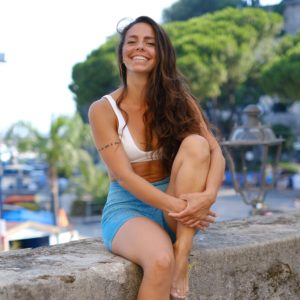 Chiara D'Esposito
Physiotherapist, 500 hrs Yoga Teacher and Reiki and Ayurveda Therapist. Working as a physiotherapist and evaluating many patients, she understands how important it is to maintain health before arriving at the therapist's table. She then begins to travel the world, she arrives in India where she meets her teachers Swami Yogeshananda and Bhooma Chantaya at the Sivananda Ashram, where she goes to practice every year.After more than 10 years of experience as a teacher, she decides to deepen her knowledge of Ayurvedic medicine and Reiki energy therapy, which leads her to meet Dr. Vivek, Ayurvedic doctor, thanks to whom she undertakes the study path on the practice and knowledge of Ayurveda based in India. Her mission is to share and teach Yoga as a life tool to create greater awareness and awareness of one's body and mind, so that one can maintain a dynamic state of health of complete physical, mental, social and spiritual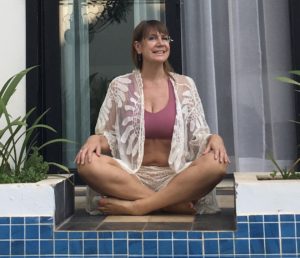 Nina Wilks
Nina is a seasoned explorer, and was fortunate enough to train in India for her 200 hr certificate with Yoga Alliance. Nina has since taught classes in London at a studio as well as at an Eco resort in Cambodia during 2020 where she provided classes to guests at all levels.
Nina has since acquired a Yin Yoga certificate and provides classes in order for people to relax deeply and re charge after a busy day.
Nina is deeply passionate about the benefits of yoga and loves to share what she has learnt over the years to curious students.
Ninas style is engaging and focussing on the foundations of the asanas whilst being present. Nina's classes will take you away from your busy stressful day and ensure a good night's sleep! Nina is also a qualified Indian Head Massage therapist and can provide a 30 minute massages